Webinar: rent of commercial real estate during the quarantine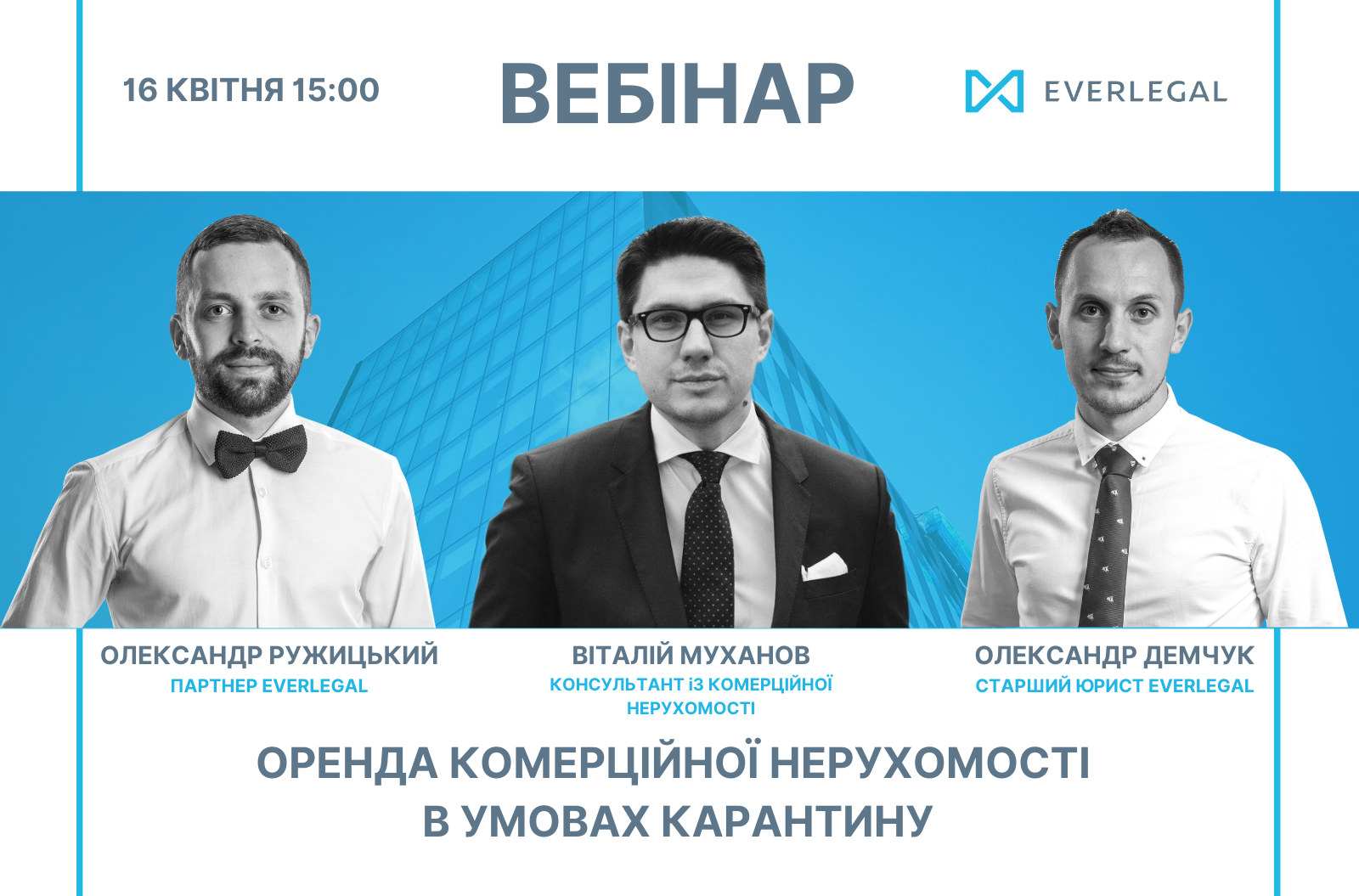 Everlegal is glad to invite you to the upcoming Knowledge Seminar "Rent of commercial real estate during the quarantine", which will be held in the format of a webinar.
One of the webinar speakers will be a commercial real estate consultant, who will explain the practical aspects of the aforementioned issue, as well as speak about real estate market forecasts for the near future.
WHEN: April 16 at 15:00
WHERE: A webinar at Zoom
Working language of the event will be Ukrainian. Simultaneous translation will not be provided.
Participation is free for registered members only. Registration is open by the link.
During the webinar we will discuss:
new legislative options to reduce rent during the quarantine period;

quarantine as a force majeure event in lease relations;

tax benefits during the quarantine period;

possibility of remote registration of changes to the lease agreement;

procedure of efficient termination of lease relations;

general market overview before the quarantine (vacancy, rates, pipeline ...);

market practice (businesses, rates, deals, etc.);

post-crisis and its impact on the market:
a) "letters of happiness" and the Landlords' reaction
b) most affected businesses
approximate forecast by the end of the year.
SPEAKERS:
- Oleksandr Ruzhytskyi, EVERLEGAL Partner
- Oleksandr Demchuk, EVERLEGAL Senior Associate
- Vitaliy Mukhanov, commercial real estate consultant
THIS WEBINAR WILL BE USEFUL FOR:
Office, commercial and industrial tenants, business owners, commercial real estate renters, real estate lawyers, realtors, and brokers
On the day of the webinar, a link will be sent to your email, and you will be able to join the event!
If you have any questions, please contact kravets@everlegal.ua