EVERLEGAL in the list of leading Ukrainian law firms of 2016!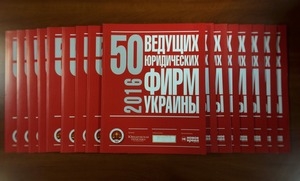 The results of Ukrainian research program "50 leading law firms of Ukraine in 2016" were published on 25.11.16. According to the results of that research, EVERLEGAL was included in the list of companies, holding 37th place in the rankings!
The results of research conducted by the publishing house "Legal Practice" were published in the regular annual edition. Rankings can be found online on the "Legal Practice" website or via the link: http://top50.com.ua/ru/2016/334.
The annual research "Top 50 Law Firms of Ukraine" was conducted twenty times already and includes a set of rankings. Besides the "Top 50 Law Firms of Ukraine" and "Bronze League" rankings which are based on general indicators, this research also determines the best law firms according to such criteria as profitability, number of lawyers, financial performance and level of respect among colleagues. Attention is also paid to the reputation of a law firm in a professional environment. The place of a law firm in the final ranking is determined by the rating calculated out of the abovementioned indicators using weighed coefficients.

It should be mentioned also that in May 2016 EVERLEGAL law firm won the award "Law Firm – Discovery of the Year".