Managing Partner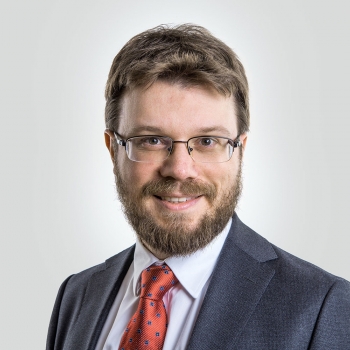 +380 44 337 0016
+380 44 337 0018
Specialisation:
Corporate and M&A, Antitrust and Competition, Commercial Matters
Education:
INSEAD, Broadening Business Perspectives Programme, 2015.
Kyiv National Economics University, Master's Degree in Finance, 2009.
University of Connecticut School of Law, LL.M., 2002
Lviv National University Law School, Specialist's Degree in Law, 2000.
Jurisdictions:
Ukraine, the State of New York
Languages:
English, Ukrainian, Russian
Recent experience includes advising:
UDP Renewables, a Ukrainian developer of renewable energy projects in relation to development and operation of solar power plant projects in Ukraine, sale of solar power plant projects to foreign investors from Spain and the Slovak Republic.

Main Group Ukraine, a Ukrainian renewables projects' developer on transactional matters related to the sale of operating companies developing solar power plants to foreign investors from Canada, the UK and Turkey, and on development of other solar power projects in Ukraine.

One of the leading global producers of PV modules, on creating an innovative solution for financing solar power project development and construction in Ukraine via trade financing.

Turkish investment company focusing on renewable energy sector in relation to the acquisition of solar power plant projects in Ukraine.

Canadian renewable energy company in connection with legal due diligence review of a number of solar projects in Ukraine.

German company in the field of international cooperation for sustainable development and international education work on matters related to the development of an assessment of the regulatory impact of the Draft Law of Ukraine "On Energy Efficiency".

US Oil&Gas super-major, in connection with the production sharing agreement project in Ukraine on the transactional, competition, industry regulatory matters, corporate matters, supply chain contracts, employment, secondments and immigration law matters, personal data compliance and transfers as well as anti-corruption law compliance.

A US multinational confectionery, food and beverage conglomerate on the reorganisation of its coffee business.

A large Spanish IT company on certain corporate governance matters.

A leading international drug manufacturer on a sale of a part of its business to a private equity fund through an asset deal, including regulatory and IP issues.