III UAA Litigation Forum: Boutique conference on repossession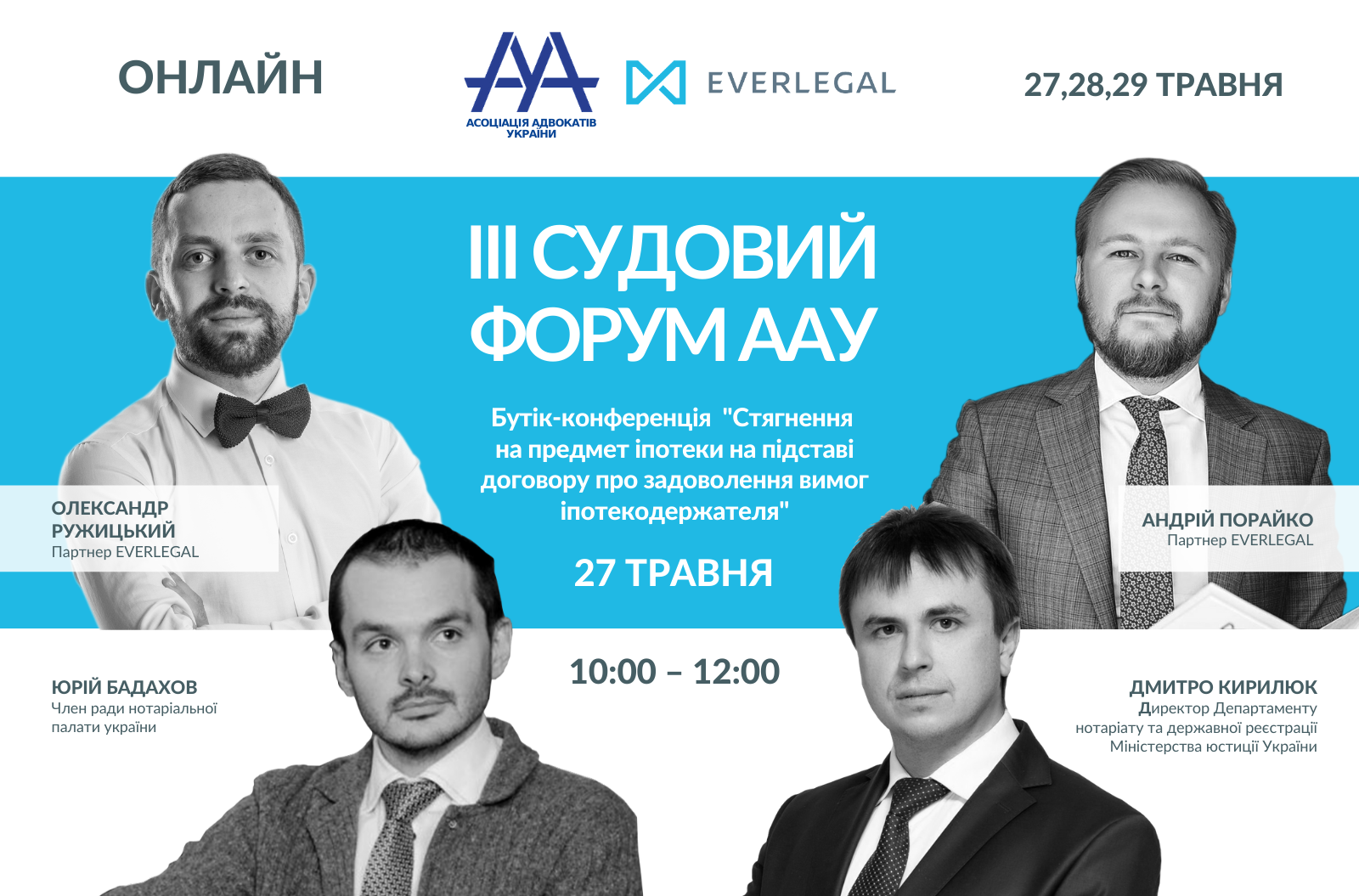 On May 27, 28 and 29, we invite you to the III UAA Litigation Forum, which will take place ONLINE this year.
On May 27 from 10:00 to 12:30 within the forum EVERLEGAL will hold a boutique conference on repossession according to the agreement on the satisfaction of the mortgagee's claims.
WHEN: May 27, 10:00-12:30
WHERE: at Zoom
EVERLEGAL - partner of the boutique conference.
The working language of this event will be Ukrainian. Simultaneous translation will not be provided.
Registration is open by the link.
During the forum we will discuss:
registration of ownership of a mortgage in accordance with Article 37 of the Law of Ukraine "On Mortgage";
sale of the subject of the mortgage on behalf of the mortgagee in accordance with Article 38 of the Law of Ukraine "On Mortgage";
extension of the moratorium on non-trial foreclosure on the subject of the mortgage;
TOP-10 controversial legal positions of the Grand Chamber of the Supreme Court and other matters;
problematic aspects of consideration of complaints in the field of registration, concerning registration actions on the basis of Article 37 and Article 38 of the Law of Ukraine "On Mortgage".
Speakers:
Andriy Porayko, Partner at EVERLEGAL, Ph.D.
Oleksandr Ruzhytskyi, Partner at EVERLEGAL
Dmytro Kyryliuk, Director of the Department of Notary and State Registration of the Ministry of Justice of Ukraine
Yurii Badakhov, Member of the Board of the Notary Chamber of Ukraine
On the day of the webinar, a link will be sent to your email, and you will be able to join the event!